Adam Habib is not me. Sipho Singiswa questions Adam Habib's appointment as Director of SOAS by University of London.
By Sipho Singiswa
As an indigenous Black South African I write to express my dismay and disgust at the recent appointment of outgoing WITS Vice Chancellor, Adam Habib, as Director of the School of Oriental and African Studies (SOAS) by the University of London. Board Member Marie Staunton, the Chair of the SOAS Board of Trustees has this to say in her pleasure at his appointment:
Read more

: Adam Habib is not me. Sipho Singiswa questions Adam Habib's appointment as Director of SOAS by University of London.
"I am delighted that we are able to make this appointment of Prof Adam Habib as the next Director of SOAS. From an impressive field, he was the outstanding candidate to succeed Baroness Valerie Amos, our current Director.

His record of leadership in South Africa, his academic pedigree, his outspoken commitment to diversity and equality, his willingness to challenge received wisdom across society, his commitment to engagement with the student community and his vision on key issues such as decolonisation, make him a superb fit for SOAS and the values we share."
I ask Staunton and those responsible for this rewarding of Habib, if they are aware of the disdain and anger that many indigenous South Africans have for him after his role in the utter brutalisation of Black students rising up in the Fees Must Fall movement and protest for the free education that was promised to them in the Freedom Charter? Are they aware that our Black majority views Habib as a hypocrite and a conduit for the racism that continuously plagues us?
The mention of 'his commitment to engagement with the student community and his vision on key issues such as decolonisation', begs some unpacking.
Let us take you back to Fees Must Fall over the period of 2015 to 2017.
It was during the Fees Must Fall uprising that Habib's hypocritical and racist attitude was exposed through his consent to the politically-motivated brutalisation of indigenous African students in protest, which resulted in scores of students being maimed and many hospitalised through the attack on them – firstly through the deployment of private security and then through the apparatus of the state security cluster, both being let loose on students under Habib's stewardship. Why does none of this seems to matter to the London University, which seemingly rewards him for his brutality. He gets to go abroad and leave the matter of reparations for the traumatised students untended to. He is not even asked to account for his role in the multiple atrocities against the student community. Afterall, he came across as 'reasonable and on the side of the students' in Rehad Desai's film on the uprising titled Everything Must Fall, as one Fallist told me.
The question this throws up for me is why the global system continuously rewards those who willingly campaign against reasonable demands from the Black collective? I am further forced to ask if some minority group members view their claim to Blackness as just another stepping stone in their career. Where is this visceral connection to what it means to be Black and indigenous in South Africa and Habib's part time Black status? How does Habib's claim to Blackness resonate with the masses whom he so easily throws under the bus when it comes to protecting the neoliberal system? Is he in anyway, qualified to speak on behalf of, or even represent Africans? In my view he does not represent my experience of being African or Black in any shape or form.
His political expedience and selective ideological amnesia is a case in point. As a Xhosa adage summarises, he speaks from both sides of the mouth. He is notably Machiavellian in his ability to slither to any side of the ideological scale and pretend to be sympathetic toward the black economic and decolonial struggle, while simultaneously assisting the state, in partnership with white capital, to smash a youth struggle that threatens their status quo.
I am reminded of the ideological hypocrisy that forms the basis for the charlatan relations that currently exists between the racist Israeli government and the ANC government. On the one hand the ANC officially professes, on public platforms, to support the Palestinian people's struggle for justice, while, on the other hand, some of its leaders are simultaneously doing business with Israeli entities in trading, allegedly including military components. It is also rumoured that the ruling party receives election funding from the South African Jewish Board of Deputies, a staunch supporter of the Israel policy of illegal occupation of Palestinian ancestral land. This ideological fraud is no different to Habib's fraudulent claim to Blackness. As Biko denoted – Blackness is a state of mind.
And, just like FW de Klerk was rewarded with a Noble Peace for presiding over apartheid policies and protecting white monopoly capital while continuing to defend and paint the history of colonial and apartheid brutality with a veneer of respectability to the western world, Habib has been similarly rewarded with a Directorship position at SOAS at the University of London, for helping to defend and protect entrenched apartheid-based minority privileges and attitudes that trample on the basic rights of the indigenous majority. He too has painted the violence against Fallists in a veneer of respectability and this has obviously been swallowed hook line and sinker by his London colleagues.
This is the man who favoured the employment and deployment of militia from South Africa's apartheid era as well as from war torn African countries, who are now employed in privately owned South African security companies. (These mercenaries, studies show, have most likely committed human rights atrocities against innocent civilians, including women, children and vulnerable elderly people in the countries of their origins before fleeing to or being head-hunted to South Africa.) It is obvious that, based on his conservative political considerations as well as being one of the pet gate-keepers favoured by white liberal South Africa, that Habib rubberstamped the employment of the former militia members precisely because they had no loyalty to, nor sympathy with, the struggles of oppressed 'South African' people.
What makes it worse is that these militia members are mostly in the employment and control of former apartheid security force officers who include members of apartheid 'Death Squads' commandos. These same security companies are often used in controversial political destabilisation of communities engaged in social transformation protest and Fees Must Fall was no different. These security bosses are often the very same players who were instrumental in the violence during the height of the liberation struggle against the apartheid regime and its state/business sponsored 'so-called' Black-On-Black violence, something that FW de Klerk still defends while denying 'apartheid atrocities' as a crime against humanity. Similarly Habib defends his heavy handed tactics against the black student collective and also denies the human rights atrocities enacted by the militia style war he facilitated against the students.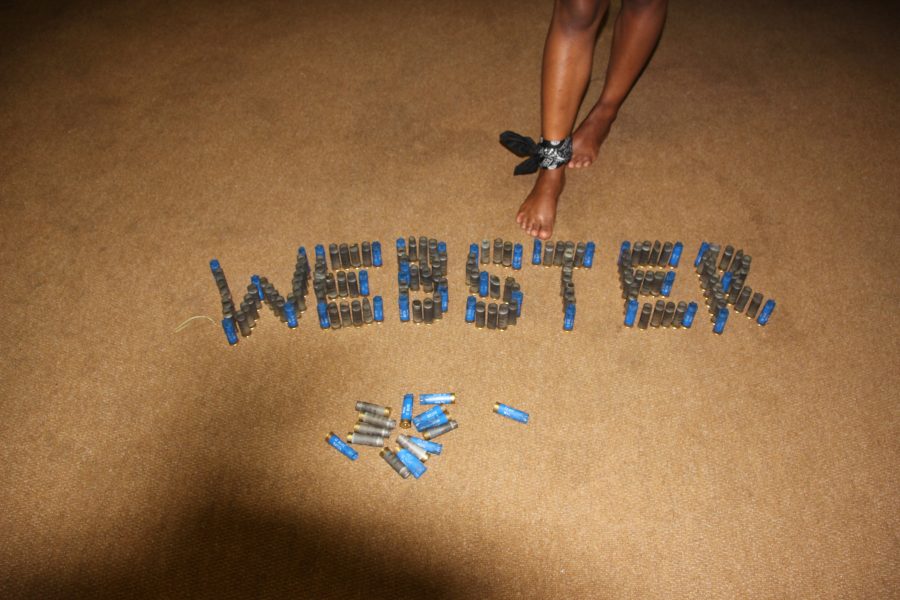 When Habib's employed militia-type thugs could not put an end to the #FeesMustFall student protest, despite the well-orchestrated brutality towards the students, he requested and/or consented to the assistance of the Task Force Police – which escalated the brutality towards the students, as well as the workers, who had joined the protest for the promised free education and the decolonisation of the education system in the white minority dominated universities in South Africa.
Habib's consent to the this militia style brutality on the WITS campus can be justifiably likened to the violent apartheid attack on the Black youth during the 1976 student uprising. Habib's reckless Trump-style attitude and consent to the use of state brutality resulted in countless human-rights abuses and hundreds of young African students being maimed, many with serious injury resulting in a number of surgeries. Many faced jail time. The psychological trauma has also never been factored into the aftermath of #FMF and many of the students were, and continue to be, emotionally and psychologically traumatised by this brutality.
There is no doubt in my mind that the brutality was thus because it was a rising of majority Black students who were on the more radical side of the struggle. The Biko, Fanon and Sankara (ists) who were calling for a just, pro-black social order, received the worst of it. Habib, it seems, specifically targeted the EFF and PASMA students during his rule of terror over that period.
As a former leader of the 1976 student uprising in Cape Town, an ex Robben Island political prisoner and a filmmaker and social justice activist, I experienced and recorded this brutality directly and I state that the violence against the Black Child was no different to that engaged in by the apartheid state in 1976. Habib, in Voster-esque authority, was relentless in his will to smash the student uprising at any cost and he acted against the student community rather than with them.
What experience of indigenous African suffering and Black pain will Habib be speaking from when he arrogantly rubbishes Black Epistemology and Ontology in the current political and educational environment? In our indigenous African framework he is an upholder of the apartheid education system and just like many like-minded gate-keepers with 'manufactured' struggle credentials, he plays a key role in the sustaining of racist stereotyping of indigenous African people from his position as a beneficiary of the ongoing system of separate development that protects apartheid style minority privileges at the expense of the indigenous African majority.
It is also interesting to note that in certain inner-political circles in which the liberation struggle principles still exist, there are speculations about Habib's struggle credentials, which, many have said, seem to have enjoyed a boost from the CIA allegedly placing him on the list of persona non-grata on US soil. The White-owned media houses created so much hype about this possible political stunt without probing any deeper than the surface, and one can only wonder at what their end game was. Habib's name is nowhere to be found on the list of of the apartheid government's formerly secret document listing the 7000 enemies of the apartheid state. Some say this stunt was a set-up to ratify his position as a gatekeeper using his 'struggle credentials', to give him some political legitimacy to infiltrate the African political environment for effective diversion. Who knows – but unfortunately this speculation is not easily his ignored given his pompous and off-the-cuff political rhetoric, which exposes his deeply held negative attitude towards the African people's struggle for equality.
And again we have to ask what criterion the London University used in their appointment of this self-serving, pompous gate-keeper who masquerades behind the 'Black Identity' when it suits his mostly neoliberal agenda, as a suitable representative of the African subject?
How do we Africans come to terms with this affront to our collective psyche, especially in the face of Habib's brutal repression of indigenous African students and his well-documented racism towards the indigenous African people? In his trope it is clear that Black Lives do not Matter. Why are the indigenous South African academics and intellectuals quiet about this hypocritical appointment of a known anti-black gatekeeper? What happened to the notion of authentic representation of the oppressed that was one of the mantras of the South African liberation struggle for justice , equality and democracy?
Does this mean there are no indigenous African intellectuals and academics qualified enough to head a Department of African and Oriental studies in the whole of the African continent, to a point where the hypocrites in London chose to appoint a purveyor of anti-black sentiment, and a rubber stamper of violence toward my people, as a representative of the historical and current Black condition in a country that pushes white business at the expense of all.
Adam Habib does not represent my African Identity any more than a white oppressor does. He must be called to account for his role in the multiple brutal aggressions aimed at Black students over Fees Must Fall. We will not rest until justice has been served.
#AdamHabibIsNotMe
#BlackLivesMatter
#AfricanRestistance
Sipho Singiswa is a struggle veteran having been a student leader in Western Cape in the 1976 uprisings. He was arrested at the age of 15 by the apartheid police and spent 2 years in and out of solitary confinement in the apartheid prison system where he underwent months of torture. He was then sentenced to Robben Island for 5 years. His name is listed on the 7000 enemies of the apartheid state.
Click on these links to view the war against the Fallists on Wits Campus.